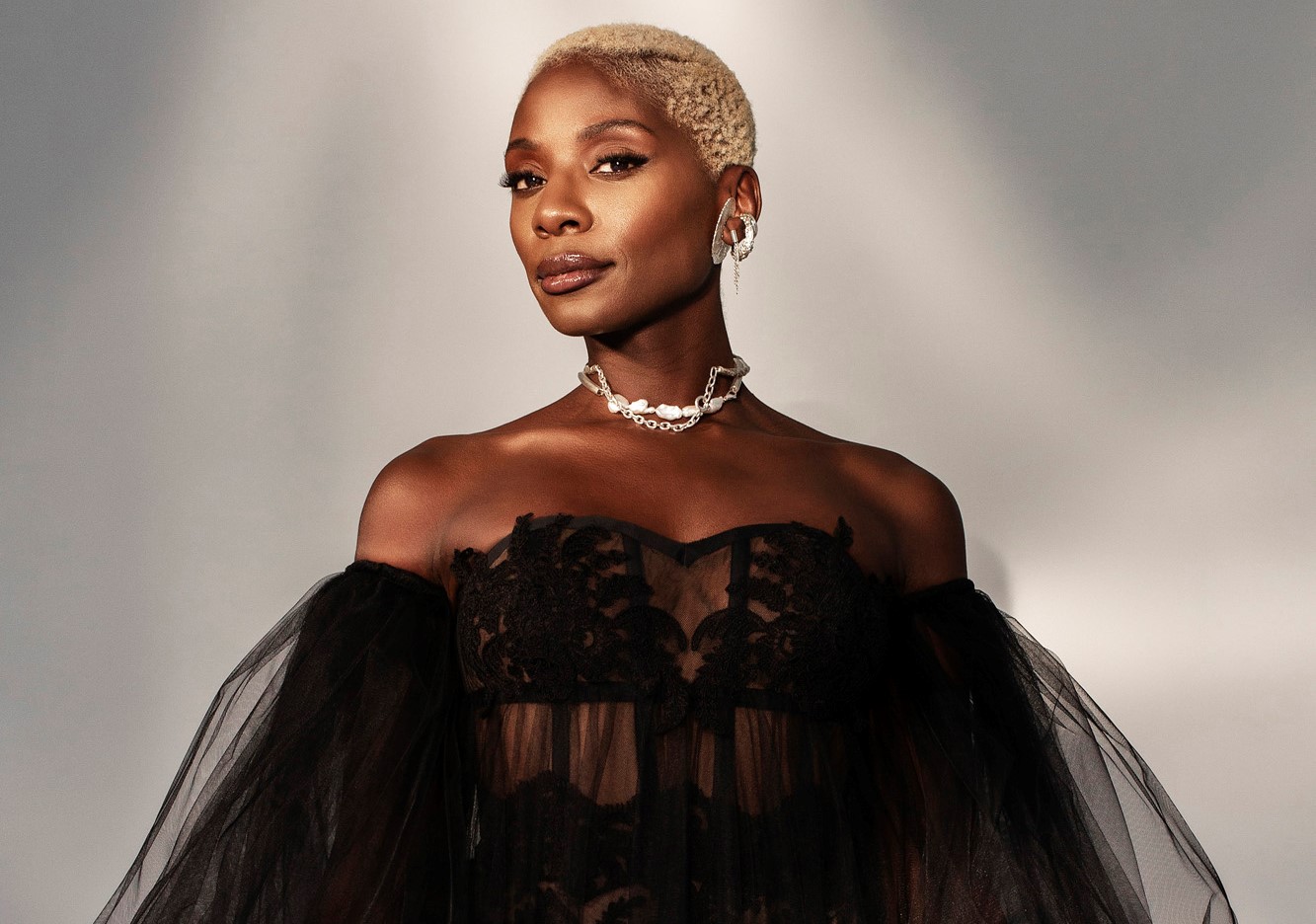 Short blonde hair, a bright smile and a bubbly personality: all those things are trademarks of Nikeata Thompson. The half-Jamaican is a well-known dancer and choreographer in Germany. But more than that she has become a strong voice against racism since the Black Lives Matter movement : "I know I'm not perfect, but the colour of my skin is."
It's a sunny day in Berlin's district Prenzlauer Berg, when Nikeata Thompson suddenly has to stand up for herself. She's standing in front of her dance agency during a work break. Her black jacket, jeans and boots make her cropped blonde hair stand out even more. In front of her stands an older white male wearing a camouflage hat. His cigarette is hanging out of his mouth, just above the face mask under his chin. Besides the cigarette smoke coming out out of his mouth, is the sound of his insults directed at Nikeata. The dark colour of her skin seem to be enough reason for him. "You're a Nigerian drugseller", he says to her in German, referring to the country where her ancestors are from. She tries to plays his remark down with a sarcastic reply, but the man keeps going. "We're going to burn down Nigeria", he adds in an angry voice. Nikeata remainss calm and calls the police, together with her make-up artist and some accidental bystanders.
Shortly after this incident in March 2022, a video of the event was published on the social media platform Instagram. It was filmed and shared by a female bystander before Nikeata shared it on her social media channel. The video was viewed by many people and news outlets reported on the incident. Because Nikeata Thompson is not unknown in Germany. She's a famous dancer, choreographer and businesswoman. But above all, she's also an activist for diversity. Nikeata Thompson uses her voice to call for equality, has been part of the Black Lives Matter movement, because she knows what it's like not to be treated equally.
Two families. Different colors of skin
"Jamaican heart, British style and German education", is how Nikeata Thompson's describes herself. Proud of all the cultural influences she has experienced while growing up. The half-Jamaican was born in 1980 and grew up in Birmingham. When Nikeata was six years old, she gained another family in Germany and moved there permanentely. "I had a biological family in England and a white family in Germany", she explains in a talk with the black German rollerskater Oumi Janta for VOGUE. Her black mother had befriended two German girls when she was working at a youth center. After visiting them in Germany, the parents of the two girls grew close to Nikeata and decided to let her become their foster child. "My British mother loved me a lot", Thompson remembers in the book about her life, Schwarz auf Weiß. "But she was also convinced my opportunities in life would be better with a German education."
From then on she lived in Germany. Before she discovered her love for dancing, she was a successful athlete. She started off as the slowest runner on the team, but Nikeata grew ambitious and trained hard. She worked her way up, won many championships and became one of the fastest women in Germany, was even conisdered a future candidate for the Olympics.
From the successful athlete to a popular dancer
At the age of 19, she left the team and focussed on her true passion: Dancing. "I went to clubs and saw how you could move", Nikeata says in the documentary RoleModels by the broadcaster ZDF. "And I wanted to look like that too." She started performing with a small dance group in clubs in Cologne. Her big breakthrough happened when the popular German band Seeed let her join their tour as a dancer in 2003. From then on she did the choreography and danced for many big German artists like Jan Delay, Tim Bendzko and Culcha Candela. She also worked for international artists such as Sean Paul and Robin Schulz. Nikeata also founded her own business to support fellow dancers: The NTAgency, a Dance Agency in Berlin. Her status as a celebrity in Germany grew bigger after her appearances on television shows. "When I became a judge for Got to Dance in 2013, my popularity grew", Thompson explains to VOGUE. Since then she received invitations in different tv shows. In 2016 she started working for the tv show Germany's Next Topmodel, as a choreographer, catwalk coach and guest judge.
"Don't listen to what other people think of you."

Nikeata Thompson
"I'm a talented woman who worked hard to be where I am today", she explains her success to the online magazine RosaMag. She's known in Germany for her positive and dynamic personality: Nikeata Thompson is loud and confident, not afraid of taking up space or being different. She has a recognizable laugh and her extravagent style and short cropped blonde hair make her stand out of the crowd. "Don't listen to what other people think of you", she recently advised the audience of Germany's Next Topmodel. But the 42 year-old is also a fighter: Nikeata Thomspon had to face many setbacks on her way to becoming a popular dancer. At the beginning of her career she barely had enough money to survive: "2008 I was at rock bottom. I didn't even have a bank account anymore", she recalls in the talk to VOGUE. But still, she didn't give up her big dream.
Recently Nikeata discovered that her endurance is also reflected in her name: "My second name is 'Nzinga'", she told VOGUE. In English this name means "the undefeatable". It was also the name of a former African Queen in Angola. Nikeata Thompson only figured that out in 2020 when she started researching as the Black Lives Matter movement spread across the globe and also arrived in Germany.
Eight minutes and 48 seconds
On the 25th of May the black man George Floyd was murdered in the streets of Minneapolis by a white police man. For eight minutes and 48 seconds, officer Derek Chauvin sat on Floyds neck, who repeatedly cried out that he couldn't breathe, until he died of suffocation. A video of this incident made it to social media. Many people across the globe were outraged and started protesting under the slogan Black Lives Matter, against racism and police violence. This movement also reached Germany. In the week following Floyd's death, big demonstrations took place all over the country. Until the end of July there were 83 Black Lives Matter protests according to a study by the Nationaler Diskriminierungs- & Rassismusmonitor. Demonstrations with more than 10.000 people took place in cities like Berlin, Hamburg and Munich. According to the study, 200 000 Germans joined protests against racism in this time. On the frontlines of some demonstrations: Nikeata Thompson.
"The world wide anger became a movement and I was pulled right in the middle of it."

Nikeata Thompson
"In the first few days after the George-Floyd-Video went viral, I was simply angry and hurt and I felt powerless", Nikeata Thompson shares her feelings in her book. At first she thought the incident would be quickly forgotten, like it happened so many times before. But this time, it seemed to be different: "The world wide anger became a movement and I was pulled right in the middle of it", she explains in Schwarz auf Weiß. The German dancer started publicly speaking out about racism. How important the Black Lives Matter movement was for her was well illustrated in a statement in her book: "I stopped eating and sleeping", she recalls. "Instead, at night I watched the videos and photos on the internet over and over again, the reports about black people murdered, the demonstrations, political debates, statements." In the talk with Oumi Janta for VOGUE, she explains that for six weeks she was either at the library or online to educate herself and her followers about racism and its history.
Nikeata Thompson started sharing politicial posts on Instagram about this topic – something she hadn't done until then. In a big part of her posts she tries to point out the roots of the injustice against people of color. She shared a lot of information about colonialism in Africa, about how people were treated at that time and even exposed at human zoos. According to her, racism is a "global pandemic that has spread over centuries". Nikeata shared posts from other activists and black celebrities like Rihanna and encouraged her followers to participate in the movement.
Nikeata's new found voice
Online she also shared moments from the Black Lives Matter demonstrations she attended. During a protest at the Hermannplatz in Berlin, she held a speech. "It doesn't matter if you're on television, don't fool yourselves", you can hear her saying in a video from the protest. "I'm a black woman and almost nobody really cares for us." Nikeata states that her last name Thompson is her slave name, that was given to her family by a slave driver. Her speech ends with a call for black people to support each other more.
"Through Black Lives Matter I felt like I could say what I'm feeling without someone rolling their eyes at me."

Nikeata Thompson
In the documentary RoleModels Nikeata confesses with tears in her eyes, how nervous she was about going to protests. But the movement was for her a moment of empowernment: "Thanks to Black Lives Matter I felt like I could say what I'm feeling without someone rolling their eyes at me", the German dancer explains her motivation to join the demonstrations. "I was so loud and I couldn't stop talking anymore." In this time she also found out through a genetic analysis, that her ancestors were originally from Nigeria, before they were brought to Jamaica. Knowing more about her family history has encouraged her to get politically involved, Nikeata Thompson states in her book.
According to the German news outlet Die Welt Nikeata Thompson has become "one of the most important voices of education on racism." Because of her popularity she managed to reach many people with her public actions during the Black Lives Matter movement and is now a well-known actvist against racism. "As a public person, I just felt the need to take on responsibility for the people who aren't heard", Nikeata explains in the interview with VOGUE. In the documentary RoleModels, the head of a dance company Nikeata Thompson worked for as a choreographer stated: "You can feel that she is serious about encouraging 100 percent of diversity and plurality, an open society and the idea that everybody is equal."
The struggles of black people in Germany
And her commitment is still very necessary: Racism is not something of the past – it's still a daily reality for many people of colour in Germany. The organisation each one teach one and the Deutsches Zentrum für Integrations- and Migrationsforschung conducted a study in 2020 on the experiences of German black people. 97 percent of the participants had experienced discrimination in the last two years. This happened mostly in public or in their private live, followed by the internet, shops and the workplace. Almost all of the participants had also experienced "othering": White people assuming that Germany is not their home country. Another issue is the German stereotype that black people are likely to be criminals. Many participants of the study had experienced racial profiling – they were controlled or detained by the police without a valid reason.
This also happened to Nikeata Thompson. "Nobody in my family will forget my twelfth birthday", she recalls the events in her book. Her birth family from Great Britain had flown to Germany to visit her. After picking up her relatives from the airport, they decided to go shopping. Nikeata remembers the staff of the shop giving her and her black mum and family weird looks. "When we we left the store", she says, "just a few steps outside the store we were suddenly surrounded by policemen." Nikeata and the rest of her family were handcuffed and manhandled into the police car. Nobody told them why they had been arrested. At the police station she managed to call her foster parents who got them out of the situation. But everybody in her family was traumatised by what had happened, Nikeata explains in her book.
But this was not her only experience with racism. In many interviews she describes how people stared or spit at her or made monkey noises behind her back. Nikeata Thompson told VOGUE how these moments of racism feel like "rape of the soul". Today she tries to not let racist comments get to her. When someone tells her to go back to Africa, she answers that Africa is a continent, not a single country, Thompson states in her book. But according to her, it took years to build up this confidence.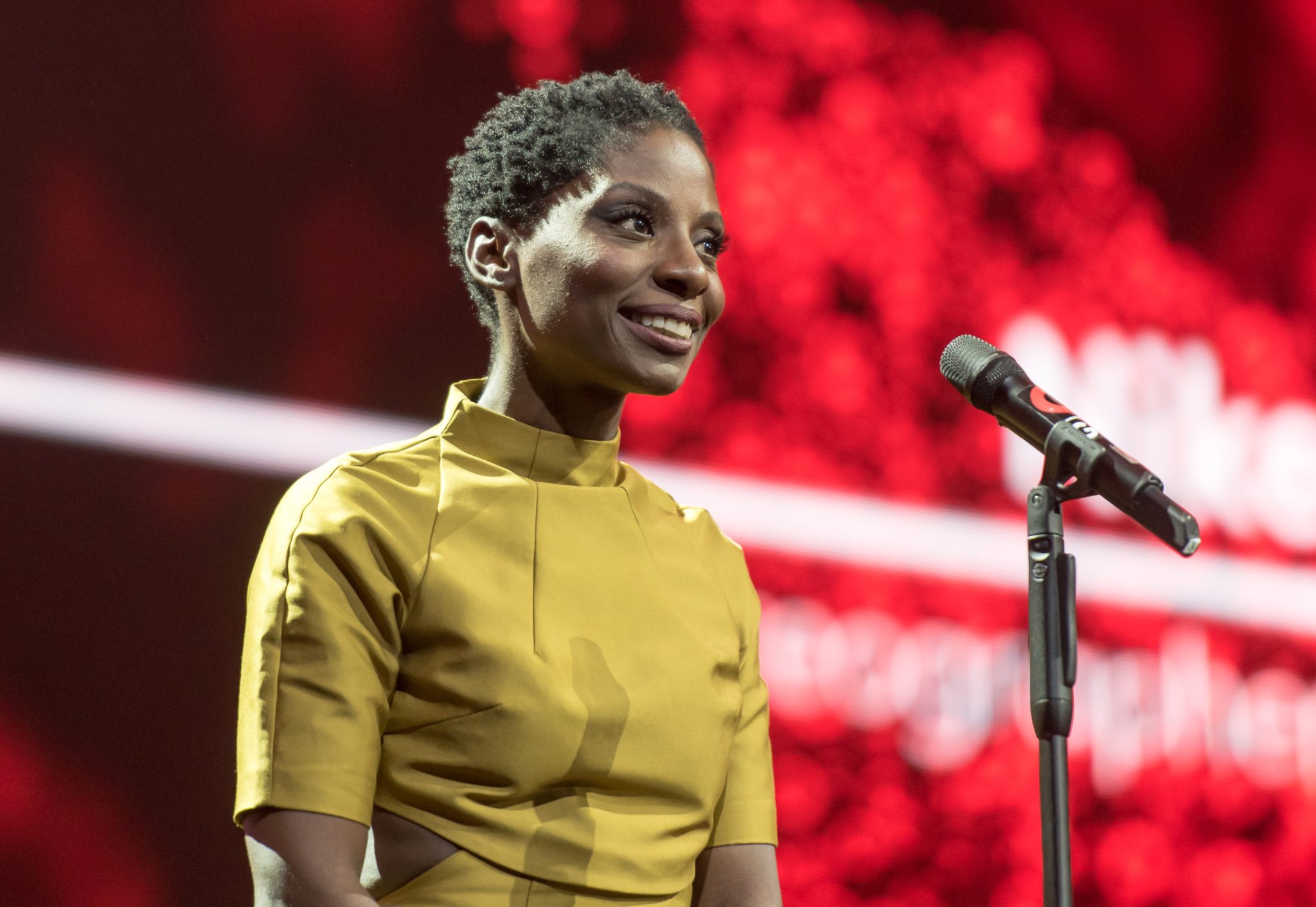 The people who racially insulted Nikeata Thompson over all those years never had to face consequences. This is different for the man who called her a Nigerian drugseller and threatened her in March 2022: The police has identified the man and Nikeata pressed charges against him. In an article about this incident at t-online she shares that she really felt threatened by the man. But Nikeata also makes it clear that racist insults like these won't bring her down: "I know I'm not perfect, but the colour of my skin is."